Elementary education teachers
Neurobiological research shows that the brain develops corresponding to its use and is therefore shaped by one's experience. This means that for a person the first years in their life are of utmost importance.
Studies prove that working with children in a positive way at an early age (see OECD-study "Starting Strong") is crucial to establish equal opportunities and prepare ALL children for their later lives. If a child's talents are identified and promoted at an early age, they can be developed in an optimal way. If not, they are likely to wither away ("use it or lose it").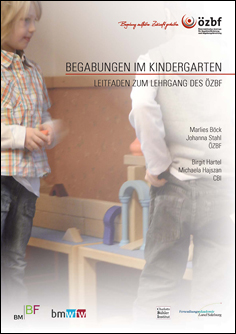 Guideline for the OEZBF course "Begabungen im Kindergarten"
Experts in Elementary Education
The OEZBF experts of practice are qualified for counselling elementary education teachers and parents as regards gifted education in kindergarten.
Furthermore they offer training courses in kindergartens and parents-child-workshops on the subject of fostering giftedness and talent.
Networking meeting of experts of practice
At the networking meeting, which takes place every year, the OEZBF experts of practice deepen their expertise on current aspects and methods of gifted research and talent support. On that basis they reflect their work with regard to talent-oriented educational work, exchange their experience and benefit from networking with everyone.
3rd OEZBF Colloquium on elementary education "Pedagogical attitude — resource-oriented reconsidered" (21.10.2016)
2nd OEZBF Colloquium on elementary education "Professionalisation of Teachers — Organisation of talent-oriented transitions" (23.10.2014)
1st OEZBF Colloquium on Elementary education "Talent development at preschool age (3-6 years)" (16.05.2013)